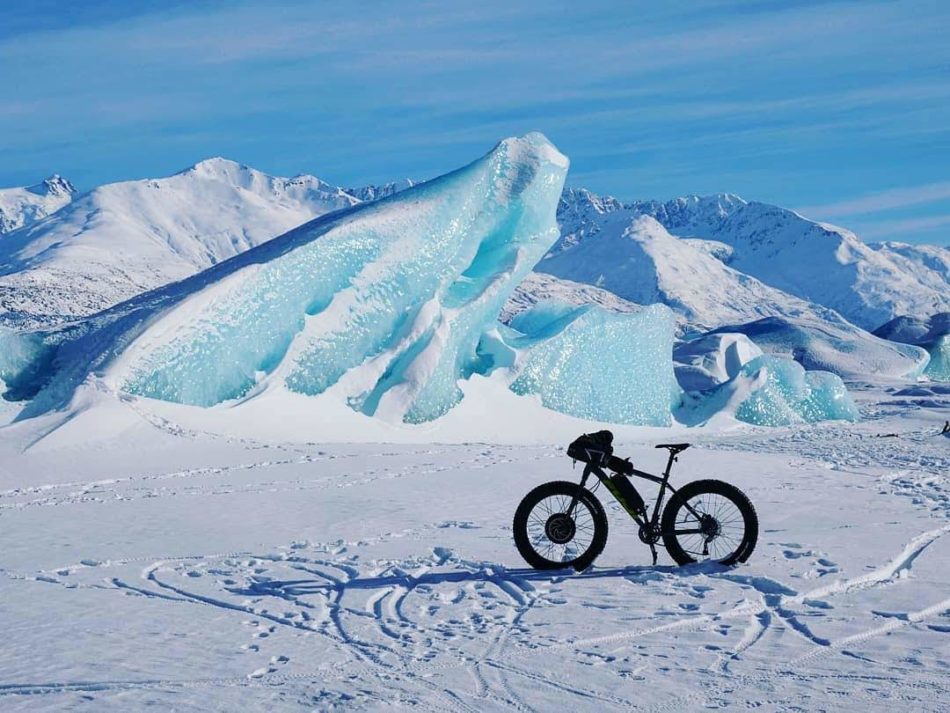 Bike Knik Glacier, Palmer
What: An incredible winter fatbike ride to an active glacier lake located in the Mat-su area. It is a 20+ mile ride including a river crossing and is definitely rated as Hard.
When to go: Ideally accessed in the peak snow months between January and April.
How to get there: https://goo.gl/maps/1gJmQnC9HkH5Gjgv7
Tips:
You'll definitely want to use a fatbike with 3″+ tires for this route. Keep a close watch on conditions via local facebook groups – if it gets too warm the snow gets very soft and can make the trek extremely difficult. It's best to go first thing in the morning to avoid this soft snow as well.
The river crossing width can vary by season but is usually low enough to bike across, or put trash bags on your feet and walk across.
On popular days it's impossible to get lost since you'll see plenty of other bikers out there. However, on non popular days it's worth having a downloaded map so you can confirm the direction/trail towards the glacier.
Once you get to the glacier lake, take time to explore the various formations sticking out of the lake. You can keep going for a long ways further down the lake or even bike to the face of the glacier, but this can add several miles to a long journey.
The area is also visited by people on four wheelers, trucks, snowmachines, etc.
Consider donating or taking a tour with Knik glacier tours for graciously allowing people to use their parking area.