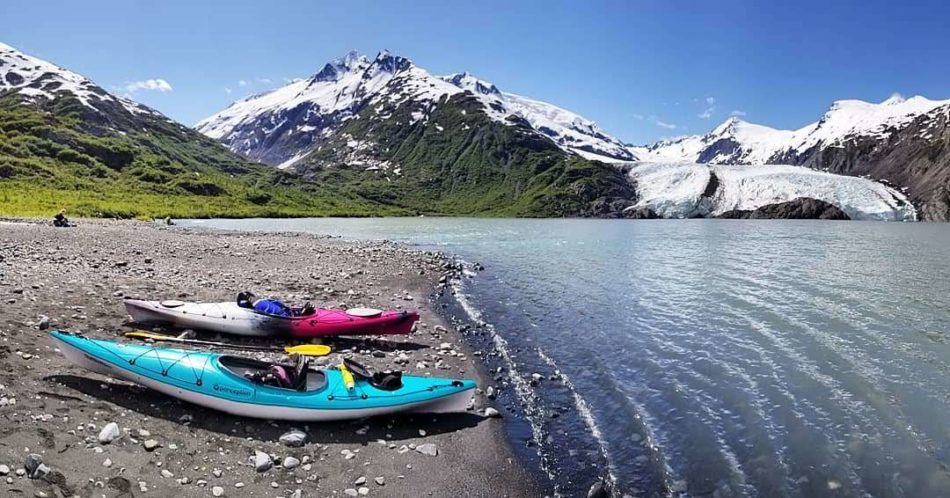 Kayak Portage Lake, Portage
What: A beautiful lake with a tidewater glacier, worth exploring via kayak to enjoy many of the waterfalls and beaches around the lake.
When to go: Ideally accessed in the peaks ummer months between June and September.
How to get there: https://goo.gl/maps/ffj9o2BdrNKisuWs7
Tips:
There is a small parking lot (at the link above) which has a small path to walk down to the lake to put in your kayak. Alternatively, there is an area near the Beggich visitor center with a put in, but this is ever so slightly further away.
It's best to do this on a calm-ish day, the lake can pick up quite a bit of wind which can make it very challenging to get around.
The best way to do this trip is to drop in at the parking lot, and then kayak along the closest shoreline towards the glacier. After a few miles, you'll reach a gravel beach where you can stop and enjoy a snack & view of the glacier. This is the same beach that is reached on the Portage Pass hike, so you'll likely see other people here.
Kayaking was only approved on the lake in the past few years with the assumption that kayakers will stay along the East edge of the lake. There is a boat tour that runs in the lake, so it's worth sticking to the shoreline to avoid any issues.
While some people attempt it, it's not recommended to go up to the face of the glacier. The glacier can calve at any time, and the wake caused by it can be quite dangerous. You can enjoy great views from a safe distance at the mentioned beach.
For an extra adventurous add on, float down Portage Creek all the way to the Seward highway after exploring the lake.