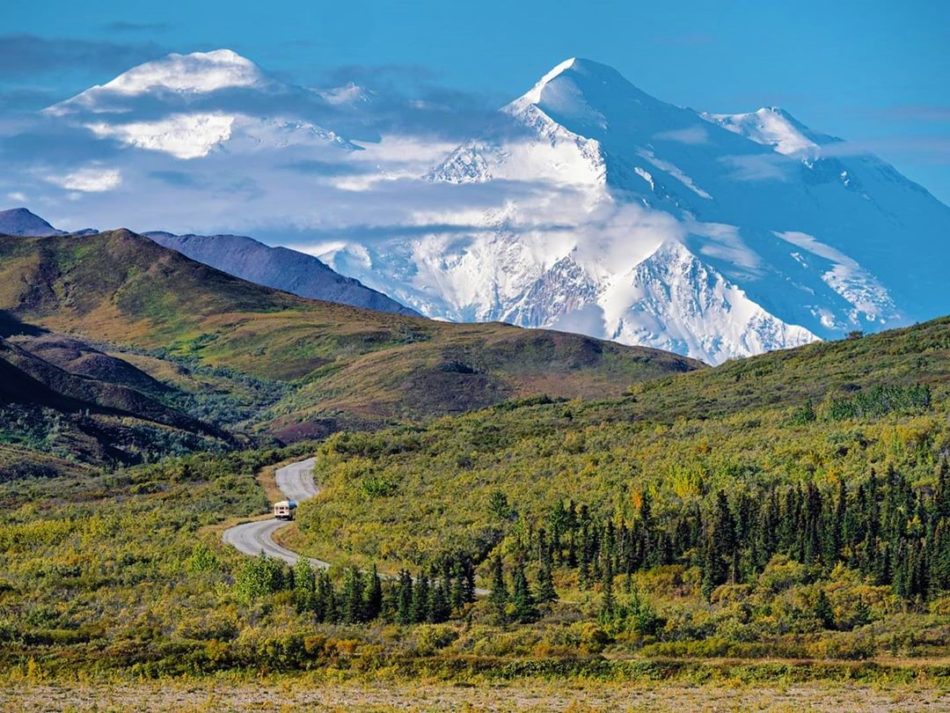 Visit Denali National Park, Healy
What: One of the most popular experiences in the state that involves driving / taking a bus on a 90 mile dirt road into the deep wilderness of Denali National Park.
When to go: Ideally accessed while the season is open during June to September.
How to get there: https://goo.gl/maps/ogwDifDmZj5MxSeg6
Tips:
The most popular & accessible way to do this is via the many national park buses. There are a few variants to this – the green buses which are hop on – hop off, or the tan busses which provide narration throughout, but you stay with your group. Both sets of busses stop at popular spots for enough time to soak in the views, but if you'd like to do a longer backcountry type day hike, then the green buses are a great option. You can even hop off at a stop, hike along the road for a while, then flag down another green bus to get picked up. Depending on how early you go in the season, you can take the bus to various end points and back. I personally recommend going as far as Eilson, but not to Wonder Lake since that can add several hours to your bus journey without necessarily better views.
The best way to do this is via your own car since you can set your own pace and avoid some of the crowds. Unfortunately, car access is only offered on very limited basis such as the Denali road lottery in September every year. However, you can drive into roughly mile 15 anytime of year which is a great area to explore as well if not opting in for the bus.
There aren't many established trails along the way, but there are a few really good ones including Savage Alpine Trail (near mile 15) and the Thorofore Ridge (near Eilson).
If your budget allows for it, there are some wonderful backcountry lodges at the very end of the road – this will let you really experience the park's beauty across a few days while also experiencing the entirety of the road.
It's impossible to plan for this, but if you get super lucky with a clear day, the views of the Denali mountain from inside the park are second to none.